By Tom Tanno,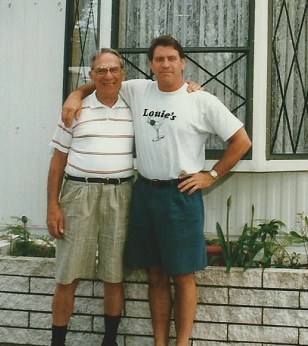 SCGA member at Take 59 Film Industry GC. Tom is a writer whose latest project is a TV Western (Romeo & Juliet set in the Wild West).
I turned onto the 405 South grousing about the time and traffic and how much farther I had to go to reach the 5 South on my way to Orange County to see my Dad. Part of it was the stress of having to leave a big project I was working on, the other part, guilt. Because of the work, I had cancelled a golf outing with him on Father's Day.
It was a week later now and I couldn't let him down again. He loves me as much as he loves his golf. We share those feelings, reciprocally – love for each other and golf. The previous year he turned 80 and while experiencing some health issues — diabetes, irregular heartbeat, early stage emphysema — none of them individually was enough to slow him down all that much, although to take a close look at him, clearly, he'd aged. And I know where some of that look came from….the slow, agonizing death of my mother, years before, still haunted him.
It was 1997 when the onset of bowel cancer began a deadly circuit through her body. I was living in California and could only visit from time to time. Dad was Mom's in-home caregiver, which morphed into hospice provider.
Although I had traveled often to Ohio to be with her and him, near the end, Dad asked that I stay away until it was time for her funeral. I resented it at the time but have come to understand it was an act of mercy and love. He was shielding me from the brutal and horrific ways in which her life was ending. He did not want to subject me to the overwhelming heartbreak and suffering which was his every day. He bore it all. He protected me from the misery of her protracted death.
At Mom's burial, when the coffin hit the six-foot mark, Dad turned to me crying unashamedly and with a face full of pain, sputtered and spittled the words, "We lost our best friend." Without her, he was alone. Lonely and scared, and now I was his best friend. That's the moment it became clear to me that I was to become his caregiver in time. And I dreaded it.
In the ensuing months, I called Dad almost every other day but it wasn't long before living alone in Ohio was putting his emotional health at risk. He told me that while watching television he would extend his hand across the back of the couch to embrace my mother. He said he could still feel her there, then realized "it was her ghost."
I felt he should not, could not, be alone any longer, so my wife at the time, Debra, and I convinced him to visit with us in California for an extended stay to see if he liked it, and if he did, well, then we could make it permanent.
Almost as soon as Dad got settled in to the spare bedroom/office, he began receiving letters and calls from a woman named Roz, a widow of a former Army Air Corps crew member from WWII. Roz, her husband, and Mom and Dad were an inseparable foursome, and now Roz and Dad were the remaining two.
After some gentle nudging, Dad admitted that he was "sweet on her," but was reluctant to say so, afraid I would object to it being so soon after Mom's death. But it really wasn't. I replied that there was nothing that was going to bring Mom back and that she would want him to be happy and she always liked Roz.
So Dad and Roz began a courtship of almost a year when he came to me again, this time to announce their impending marriage. They wed and suddenly I had a step-mother and the by-product of a more healthy father mentally, emotionally and even physically, it seemed. Everyone was happy.
THE DAY Exiting off the 5 Freeway, I soon pulled into the parking lot of the Orange County golf course and could see him in the distance on the practice putting green. He lit up when he saw me and we exchanged our usual greeting, both hugged and kissed each other on the cheek at the same time. We gambled a $1 a win with a little putting contest, then hit the driving range. All warmed up, we got our cart and parked along the paved path near the first tee waiting for the starter's signal and two other men who would make up our foursome.
He asked about my life and work, always interested in what and how I was doing. As a father he set the bar high. Early on he taught me honesty, fair play, the value of hard work and taking pride in a job well done. He taught by doing and led by example. Same held true when it came to teaching me how to fish, golf, play baseball and football, in both of those sports he was my Midget and Little League coach. And for that add in patience, encouragement and enthusiasm. Most of all, he was compassionate, a man of love, a born caregiver.
Soon realizing we had been waiting there for quite a while, I got out of the cart to look for the starter who was a ways down the path talking with two other golfers and pointing in our direction. I turned back to see Dad sitting alone with the sunshine on his face. He couldn't have looked more at peace. Reaching into my bag, I found an old Instamatic camera with just one frame remaining. I snapped the picture. In less than an hour, from that moment, he would be dead.
The third hole was a par three. I walked with Dad toward his tee shot sitting up in the rough to the left of the trap in front of the green. We were on about a 45-degree uphill incline. He was to my right, a half step behind. I heard the last breath leave his body. A theatrical-like exhale. As I turned, I saw him drop straight down on his face, making no effort to break his fall.
That was it. He was gone. I knew it. No matter, I quickly removed his dentures and gave him CPR while one of the guys in our group was already dialing 911. Pinching Dad's nose I began forcing air into his lungs but it was just my own breath coming back into my mouth. I stopped and just held him. He was still warm and I could smell his Aqua Velva.
Groups of golfers were backing up on the tee, straining to see and making gestures of frustration and impatience. They didn't know. One of our foursome said, "What do they want us to do, drag him out of bounds so they can play through?" I suppose we could have. Dad would've understood. He was always a stickler for maintaining the pace of play.
When I heard the siren I stood up. Everyone was pointing the way toward us as the ambulance bounced along the course. A few clueless golfers had to hustle to get out of the way. Those on the tee behind us knew for sure what was happening now.
Soon as we got to the Emergency entrance they wheeled him away and I called Debra, and she called the rest of the family. When they all arrived, Roz and I were escorted to where Dad was and left alone with him. We both stood over him, speechless, when she slowly bent forward to pick off a blade of grass stuck on his face. I quickly said "No, leave it," and gently took her hand. She looked at me quizzically. I can't explain why I did that. It just seemed right that it was there.
So that was that. My father was dead. He mercifully hadn't felt a thing, nor anything to fear. He was doing something he loved with someone he loved. He was a good Catholic man who really believed in his faith and often joked that golf was his second religion. And now he had proof. The last thing he saw on earth was a golf ball. The next was the face of God. He would have liked to have been able to tell that story.
As Roz joined the others in the waiting room, I remained with him. As shocking as it all was, suddenly it came to me that again he had been the protector, the very present father in his absolute absence.
Dad protected me this time from the very real likelihood that any number of his health issues could have put him in the very real position of requiring long-term care. But it was a moot point now. I had nothing to dread. As I bent over to kiss his cheek one last time his skin had become cold. As I rose, felt something on my face. It was the blade of grass.
Post script: I gathered three of my buddies, all of whom had golfed with Dad, to play a memorial round on the first anniversary of his death. As we approached the green on the par three, I pointed to the spot where Dad fell. One of the guys bent down and pushed a tee in the ground right there. We all followed that thoughtful lead and stood in silence for a few moments.
I looked back toward the tee box to see the impatient body language of the next foursome. We quickly played out the hole. Dad would have wanted us to keep up the pace.
Connect with Tom Tanno on Facebook